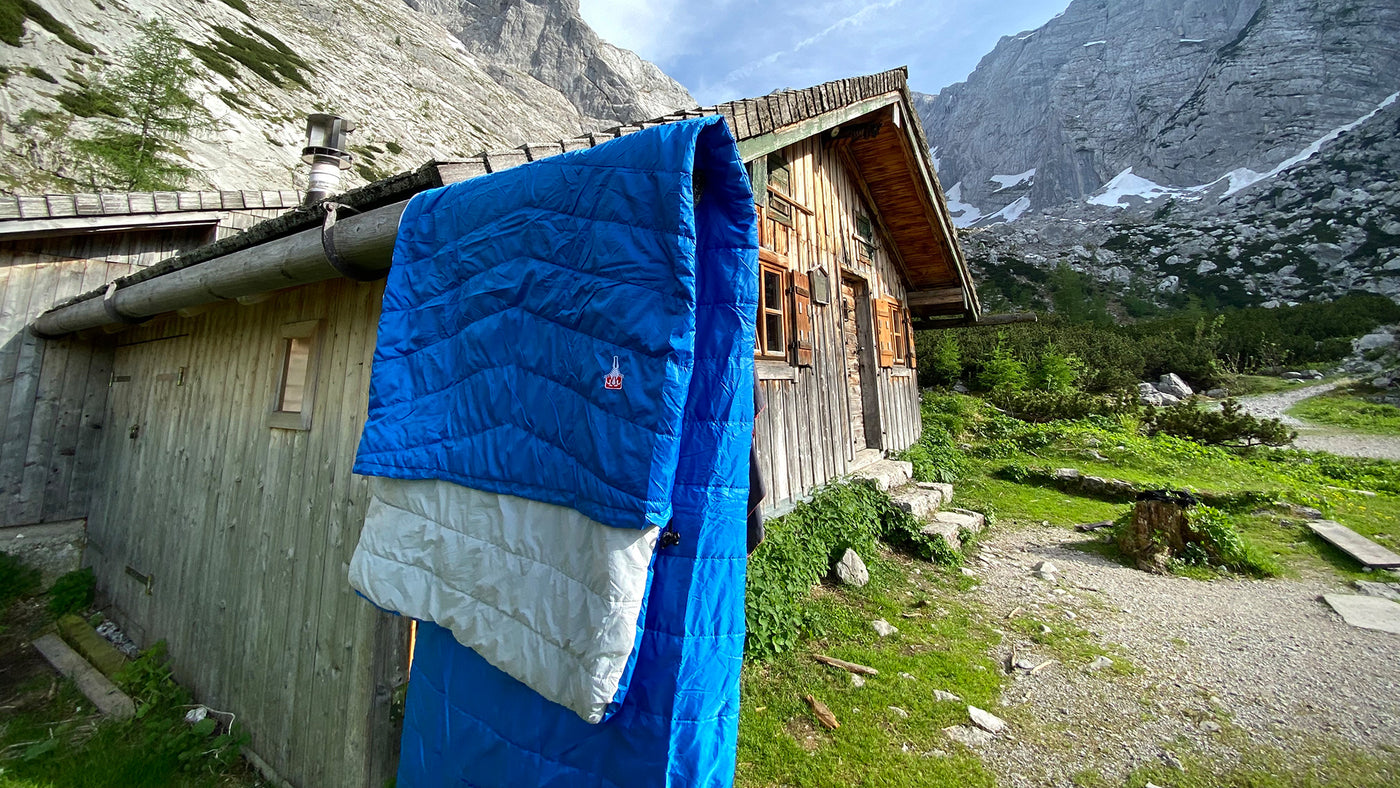 Biopod Wolle series - Sleeping bags
Biopod Wolle series - Sleeping bags
Sleep soundly and naturally with Alpine wool
If you sleep well, you start the day rested and fit. A balanced sleeping climate perfectly created by Alpine wool gives the ideal conditions to achieve this. Exactly what the Alpine wool that is in our Grüezi bag sleeping bags does!
The Alpine wool used in our sleeping bags acts like a natural air conditioning system:
our body releases moisture all the time. Too much humidity in the sleeping bag makes us get cold – putting a good night's sleep out of the question. Wool has the fascinating property of being able to absorb moisture only releasing it again in doses. There is no evaporation cooling in our Alpine wool sleeping bag, because wool still warms perfectly even when wet!
Structure of the wool fibre
Its nested structure means the wool fibre absorbs moisture and regulates the sleeping climate.
Climatic miracle Alpine wool: it warms and cools equally, for an all-round feeling of well-being and a relaxing night's sleep.
Grüezi bag uses "wool filling from Alpine sheep" for its Biopod Wolle wool product line. It is processed and supplied by the renowned wool supplier Lavalan. Regional products and short supply chains are important to us.
Why is wool the perfect material for your sleeping bag?
Studies such as those conducted by Woolmark Australia show that you sleep longer and more restfully with wool because it produces the ideal sleeping temperature of 33°C body temperature – perfect for us humans. No other material manages this as well. Synthetic duvets in particular are clearly inferior to wool ones, especially to those using Alpine wool. And then just what you never want to happen happens: you kick yourself free from the covers in your sleep and cool down...
This has been tested in sleep laboratories at a pleasant ambient temperature of 22°C.
By the way, even couples sleep comfortably under an Alpine wool blanket, because the wool fibre regulates each body temperature independently.
Robust, natural, antibacterial, biodegradable and renewable: sheep's wool, in our case the special Alpine wool, is a naturally renewable resource that can be sheared annually and can be degraded again at the end of its lifespan without leaving any residue. An organic cycle. This means that Alpine wool also satisfies the needs of environmentally conscious consumers.
Wool sleeping bags from Grüezi bag are perfect sleeping companions, light on your back and tiny sleeping bags to pack. Our Biopod Wolle Plus weighs a mere 690 grams!
Alpine wool or DownWool? When we recommend which insulation
The alpine wool insulation sleeping bags are designed for temperatures above zero. Their strengths come to the fore especially at high humidity, such as near rivers, lakes or at the sea because the alpine wool can absorb a lot of moisture without losing its insulating properties. This is the reason why you will always have a dry warm climate in your sleeping bag with Alpine wool.
If you want to use your sleeping bag in temperatures around freezing and below, we recommend our Subzero and Ice DownWool sleeping bags.
These sleeping bags with DownWool filling offer the ideal insulation to weight ratio. The down content provides excellent insulation and makes the sleeping bag light. Its moisture-regulating effect means the wool gives you the perfect feel-good climate.
Our wool expert, the Grüezi bag sheep, tells you in front of the camera about the benefits of its wool:
Grüezi bag wants to make its sleeping bags even better.
Our customers already rave about our highly functional wool filling and the breathable, water-repellent nylon outer material. We offer extra highlights such as new, comfortable sleeping bag cuts and effective ventilation options.
These Grüezi bag sleeping bags are filled with Alpine wool:
---