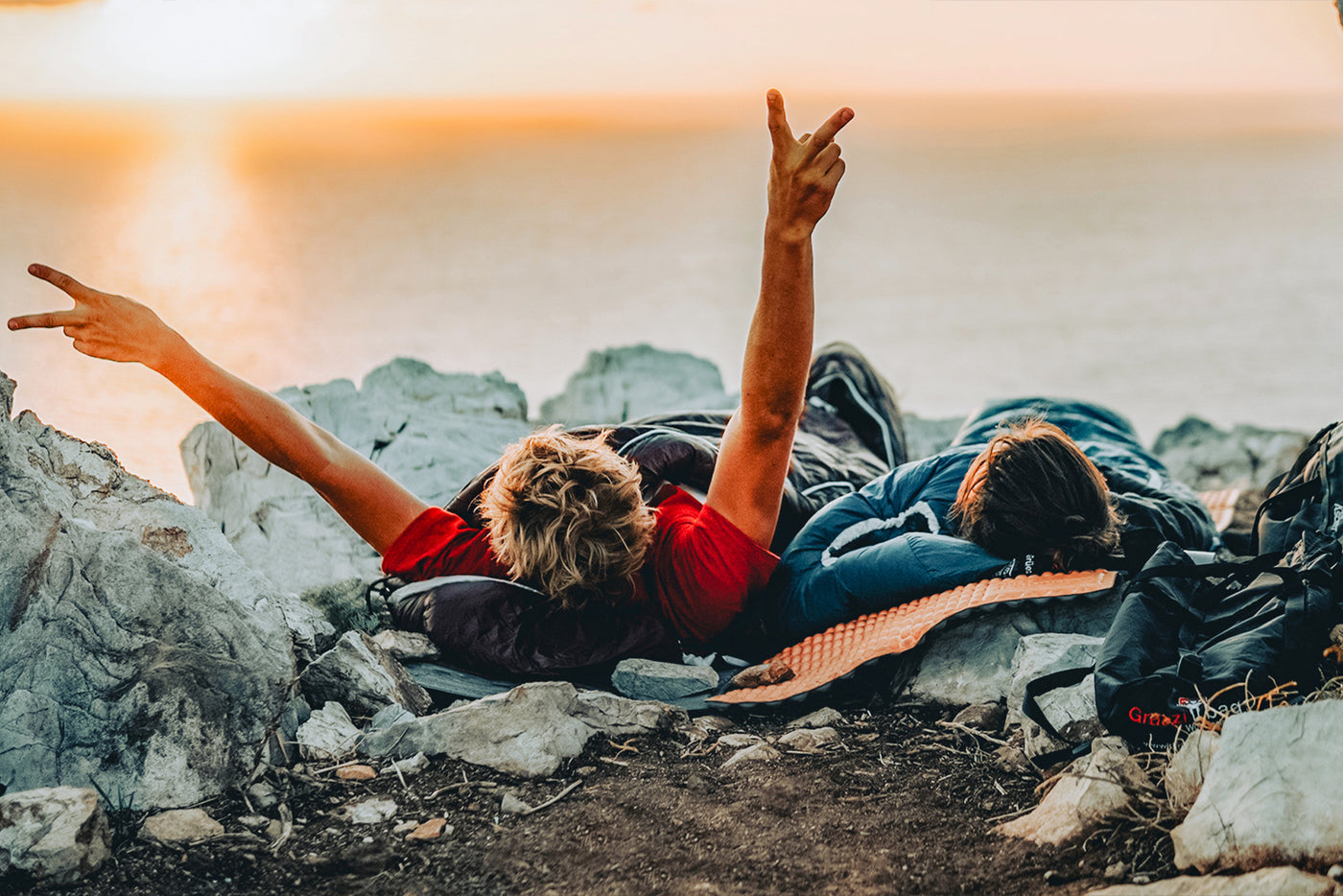 www.Bergparadiese.de
Björn
Year of birth: 1974
City: Sonthofen, Germany
Goals: trekking & hut tours
Equipment: Biopod Wool Goas
About me
I'm Björn from Bergparadiese.de and I've been traveling in the mountains with passion since my earliest childhood. With my mountain bike, my hiking boots or my via ferrata set, I am constantly looking for new tours and experiences. Enjoyment should not be neglected. I like to keep fit with trail running and outside of the classic mountain season I also like to go on touring skis. On my alpine and outdoor blog I write about my tours, give tips on tour planning, equipment and much more!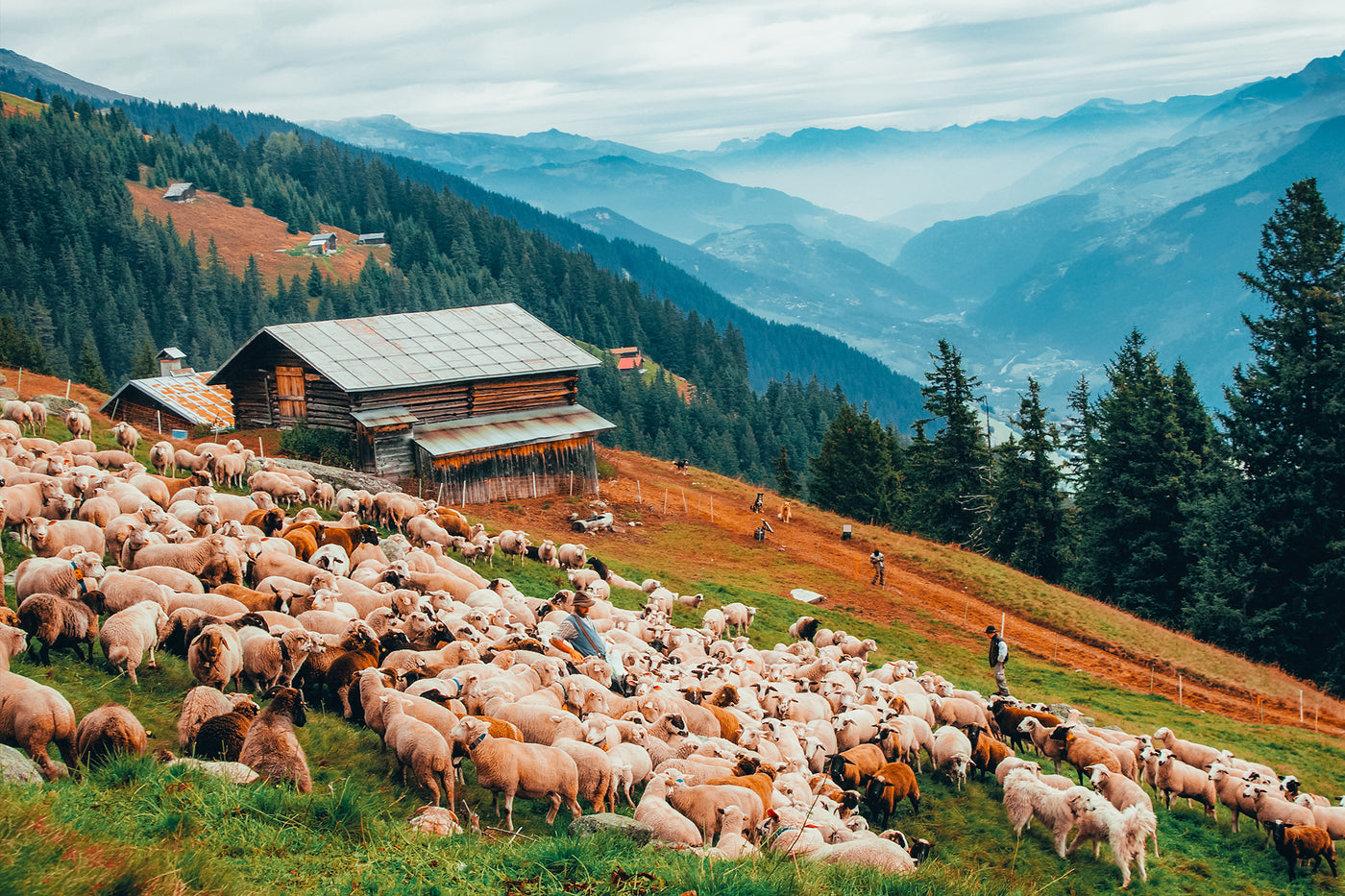 REVIEW
The right sleeping bag for the right purpose. We tested the Grüezi Bag Goas sleeping bag to see if it suited our needs.
Anyone who deals a little with sleeping bags will quickly come across a wealth of different manufacturers and purposes. sleeping bags for camping. Sleeping bags for bivouacking. Sleeping bags for extreme temperature ranges. Some have a synthetic filling, others down. And there alone there are a wealth of differences in terms of isolation behavior .
The outer material and the functionality in terms of whether it can be linked or not, pillow compartment, other compartments... In short: the search for the right sleeping bag is almost a science in itself.
So how do you find the right sleeping bag? And doesn't the one from a discounter do the same?
The question cannot be answered uniformly for everyone and everyone. But it helps to think about what you need the sleeping bag for in advance . Here is a small checklist that helped us.
Camping, bivouacking, camping?
In which temperature range should the sleeping bag work?
How heavy can the sleeping bag be?
How big when open or boxed ?
How do I transport the sleeping bag and how much can it weigh?
What about sustainability? So manufacturing process, production location and conditions? Materials used?
How much money is a good night's sleep worth to me?
Surely such a list can be further refined personally . Depending on what you are looking for.
We had exactly these thoughts in advance . Especially in terms of application. And it is precisely in this pattern that our old companions no longer really fit.
The area of ​​use of the sleeping bag
We have rarely camped or bivouacked in the past few months. We are not the classic campers either. It's been a long time since the last overnight stay at the summit . An already difficult and currently hotly debated topic.
But since this year we are the proud owners of a Bullis. His name is Edgar. I'm a photographer, blogger and work a lot with tourism destinations. And we are passionate about being outdoors. Professionally and privately, Edgar gave us the opportunity to go on a via ferrata the day before , for example, or to complete a section of a tour further away in advance.
Thus, the application area of ​​the sleeping bag was quickly clear. And some features weren't that important to us. The weight, for example, played a subordinate role, as did the pack size. The sleeping bag is primarily transported in the vehicle . But it should be just as suitable for a night in the vehicle as it is for a night under the stars. But not at extreme temperatures. The classic mummy shape is less suitable for our application. It would be nice if the sleeping bag would work just like a blanket at high temperatures . So could be opened all around.
Sleeping comfort is very important. Preferably natural materials. And the good feeling in terms of sustainability should not be neglected.
"I would have something"
I had already used a few sleeping bags beforehand. High quality branded sleeping bags. Cheap from the discounter. And a synthetic monster with a felt weight of 3 kilograms, but up to minus 30 degrees and more in the extreme range. But that comes from my boy scout days and also smells a bit due to the long stay in the cellar.
When I was looking for the right Edgar solution, I stumbled across Grüezi Bag . I have already noticed the manufacturer from Bad Feilnbach with its innovative ideas and its own way at the past outdoor trade fairs . But if you are not specifically looking for a sleeping bag , then you are not dealing with the topic.
Our interest was aroused by the press release that Grüezi Bag had developed a new sleeping bag that can be composted within 200 days . So I made an appointment with Markus, the brains behind Grüezi Bag, at the OutDoor by ISPO in Munich.
What was impressive about this meeting and the overview of the multitude of sleeping bags were not extreme areas, numbers, data, facts or the latest trends and innovations. I ca n't even judge or question many of these things because I don't have the know-how and the technical possibilities to do so. Here I then rely on the manufacturer's information. No. What was really impressive about this meeting was the enthusiasm with which Markus described his products, his view and his own path to me.
Enthusiasm is what drives us...
And you quickly notice whether someone is enthusiastic because the cash register rings, or is enthusiastic and convinced of what they are doing .
At that time , Grüezi Bag was also looking for testers for the new sleeping bags. But they would have shot beyond our goal in terms of their functionality and area of ​​application . As mentioned before, it was about Edgar. So I explained my situation and Markus said spontaneously: "I have something else" . And so we agreed to test an older model: the Grüezi Bag Goas Comfort sleeping bag.
The Grüezi Bag sleeping bag Biopod Wool Goas Comfort
Why the Goa? This sleeping bag was designed for the tent, cabin and stay in the camper . It can be used both as a sleeping bag and as a blanket and feels most comfortable in spring, summer and autumn .
Its filling consists mainly of alpine wool and a small amount of synthetic down. With a total weight of around 1400 grams, it is less suitable for hiking or climbing mountains . However, it promises a completely natural climate regulation thanks to the alpine wool filling .
The mixing ratio aims to ensure that the body, which is constantly losing moisture , does not cool down during sleep. This can happen due to evaporative cooling when moisture is transported from the inside to the outside of the sleeping bag too quickly. If this evaporation cooling is avoided, this in turn ensures a restful sleep. The wool, which comes from sheep in the Alps , is also biodegradable, robust and natural. And wool keeps you warm even when it's damp.
These are all facts that fitted us perfectly .
Snuggle factor 10 for the Grüezi Bag blanket sleeping bag
I'll anticipate: We searched for the Goas, found them and found them to be impeccable.
Our rating: The Goas is hoas!
I mean that in a figurative sense. The sleeping comfort and temperature regulation are outstanding in the area of ​​use we have chosen. You have to make compromises when it comes to weight. But that always depends on the area of ​​application and the weight was also right there. The all-round zip quickly transforms the Grüezi Bag Goas into a cozy blanket. The small pocket in the chest area is just as useful as the separate compartment for the pillow. In our case, however, neither of these features came into play because our Edgar offers enough space and storage space .
A very clear factor in the decision-making process is the price. You can always find cheaper deals . But a restful sleep justifies the price of €229.99 (RRP) for the sleeping bag. The specialist magazine "Klettern" already stated in its Testival 7/2017 that the blanket sleeping bag offers perfect climate comfort . Only the design was less convincing at the time. But what you can't like about a Capricorn probably remains a mystery!
For us, the sleeping bag is an all-round success and suits us perfectly in terms of appearance and inner values.