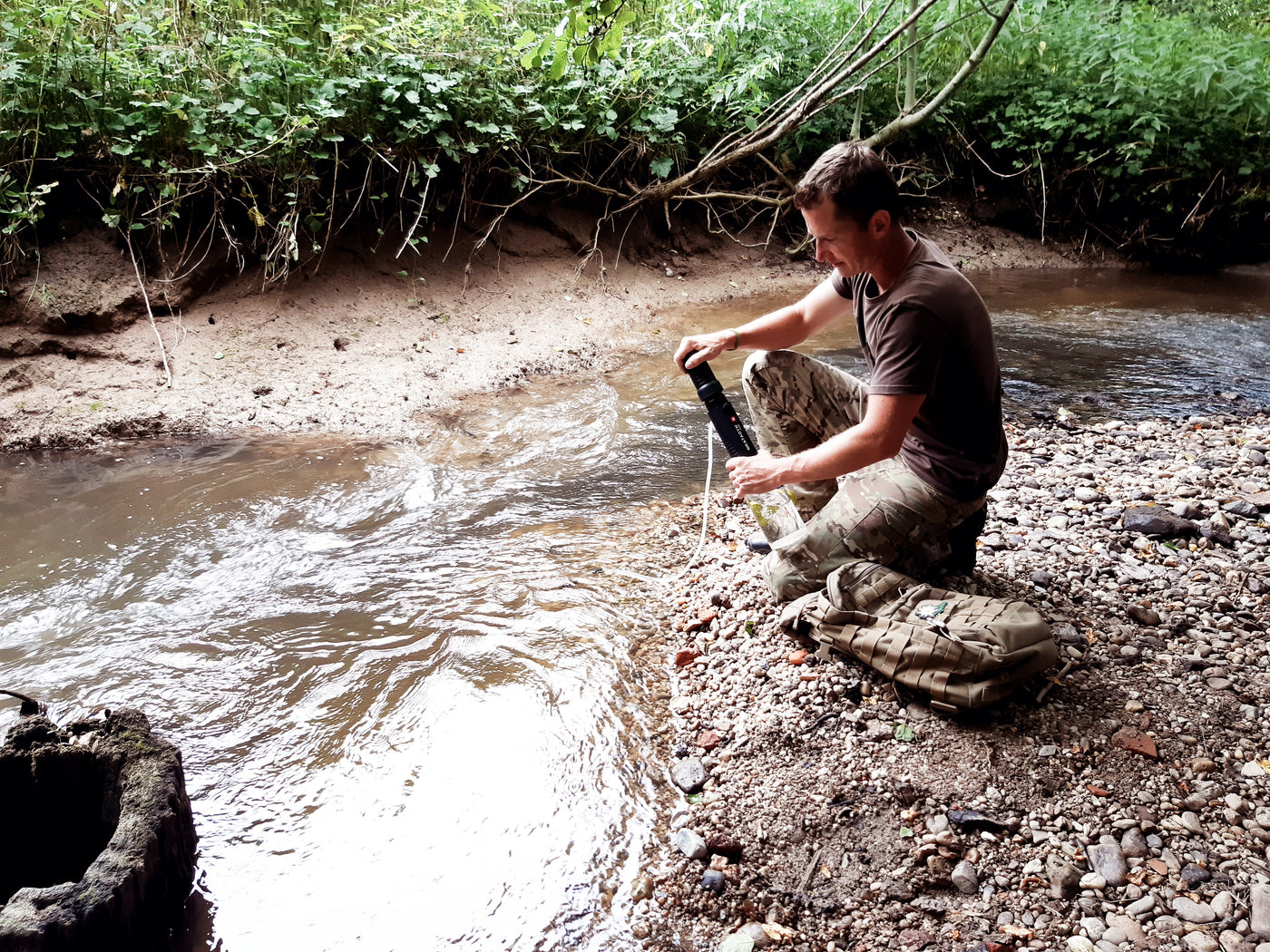 Raphael
Year of birth: 1988
City: Upper Austria
Destinations: Alaska
Gear: Biopod Down Hybrid Ice Extreme
About me
My name is Raphael. I'm a little over 30 and active in the areas of alpine and survival both professionally and privately. I grew up mostly in and with nature, which has had a huge impact on me.


I like to share my knowledge and experience with other people because I believe that many of these abilities are among the most intrinsic human competencies and that each of us should have a certain basic knowledge in this direction.
Since something like sustainability is also important to me due to my connection to nature, I am very anxious to direct my life accordingly and also to select my equipment with this in mind.
That's why I stand for Grüezi Bag products.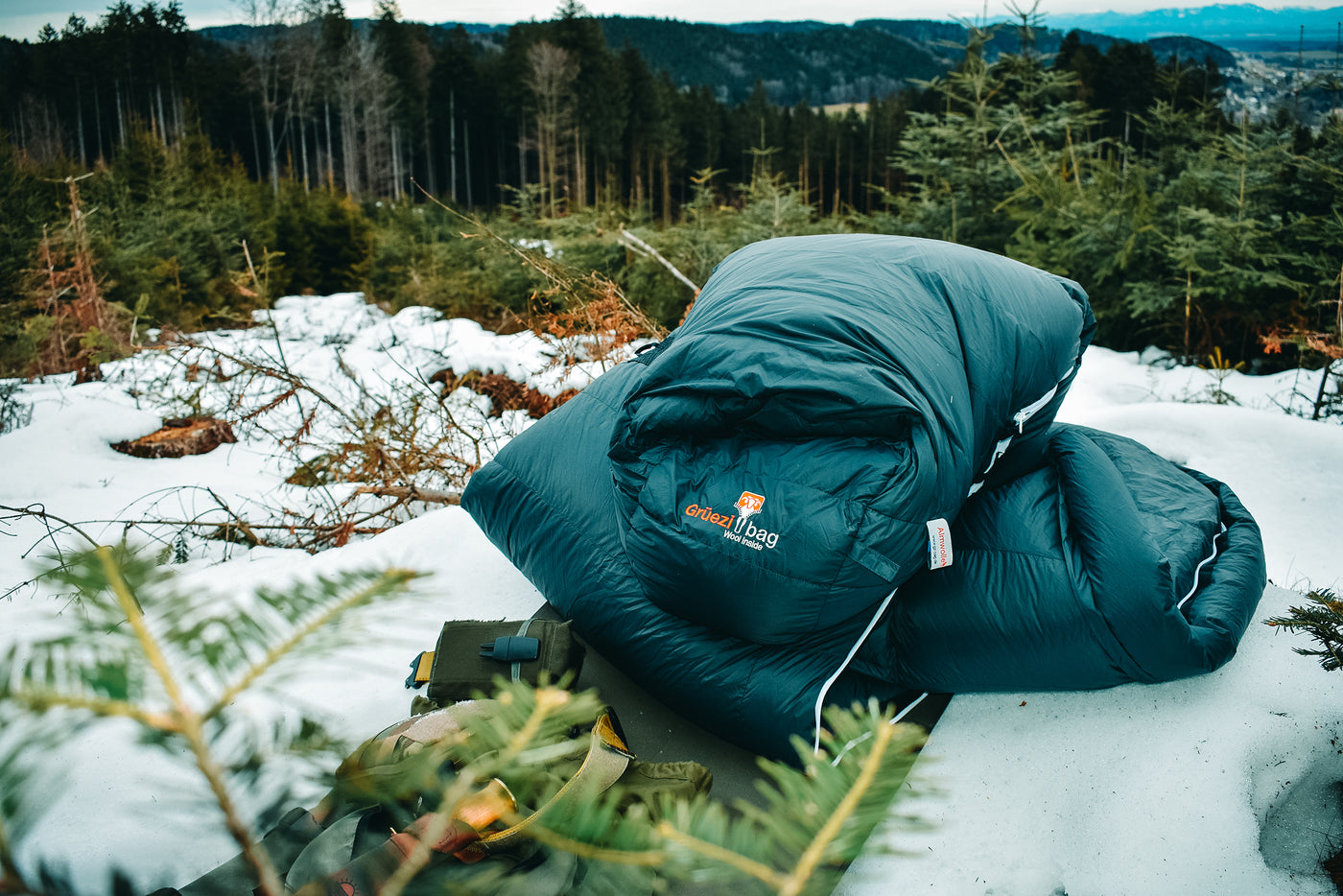 BIOPOD DOWN HYBRID ICE EXTREME
REVIEW
Monday after a long day we arrived around 10:00 p.m. at our first campsite at about 1600m. The temperature was about -10 degrees and a light wind from the east made it quite chilly. That evening we had received motorized supplies and therefore I took the opportunity to spend the night in one of the dome tents that had been delivered.

Quickly shoveled a level surface in the snow so that the tent has space there and the booth was already there. I didn't give a damn about any fastening options, since we were going on again the next day anyway.
I placed my inflatable sleeping mat and quickly unpacked the sleeping bag. As with the last assignments, the said part took on its full volume within a very short time, which always inspires me. I quickly heated up a liter of water in the gas cooker, filled it in a drinking bottle and put it in the sleeping bag as a hot-water bottle to warm it up pleasantly at the same time and I also put all the batteries and power banks and my toothpaste to thaw them.

To my annoyance, another 3 hours passed before I could finally slip into the cozy sleeping bag. Now, of course, the good guy was already warmed up and I really enjoyed snuggling into it.

The batteries were now also warmed up so that I could charge various electrical devices with them and of course I had a power bank ready to run the heating. I closed the zipper all the way up and pulled the rubber bands tight until only a small part of my face was showing out of the sleeping bag. It was so comfortably warm that I was only woken up by the alarm clock, which I rarely had on such cold nights.

I didn't need the heating that night, but according to others it was down to -14 degrees. But you have to say that I basically cheated with the hot-water bottle. Well no matter.

What really excites me is the zipper, which you can't close so wrong that it gets tangled up. Another thing that strikes me as very positive is the material, which also feels quite comfortable on bare skin.

It doesn't feel like you're used to from other sleeping bag models.
The wider cut is very useful if, like me, you are not tall yourself but take various things with you in the sleeping bag, such as a toilet bag, headlamp or power bank.

The outer pocket, which I find quite practical, I used in this insert to store my earplugs. Often you don't really have space to store various things in such a way that you can find them again quickly, so this compartment is a good idea.

At 06:00 the next day it was quick to pack up and move on.

After a short breakfast we were already on our feet. We reached our destination around 2:00 p.m. at an altitude of around 2000m. At the campsite we chose, we still had over 3m of snow, which of course I immediately use to build decent accommodation.

I slept 3 nights under the open sky since no rain was forecast and there was no real wind.

The weather During the day the whole week was truly imperial weather. Bright sunshine and temperatures between 0 and -6 degrees during the day.

In the following nights I had to deal with up to -16 degrees and in the morning I usually use the possibility to heat the sleeping bag a little and I have to say this extra is simply awesome. You notice the difference immediately and I noticed that the heating process does not draw a lot of current from the power bank either.

The anti-slip nubs are a good idea, because who doesn't know that you suddenly find yourself lying next to the U-mat at night.

In retrospect, I noticed that I never felt hot when I slipped it on, which is usually the case.

I also found that I slept very well this week, although I was often woken up during the night, which I attribute to the functionality of the sheep's wool.

What I noticed once in a while is that when you lie on your back in the sleeping bag and then move your hand to the left, you quickly feel the icy cold zipper.

The sealing lip at this point insulates very well, but it happened to me a few times that I somehow touched the zipper.

Maybe it should be attached below but what do I know.
What I definitely have to say is that the GrueziBag sleeping bag had to be compared to the Carinthia 1200 this week, which of course sounds utopian, but I can say that most Carinthia sleepers used a hot water bottle after the first night, so you can say that the good sleeping bag did quite well.

Some participants of this survival training also admired it, especially because of the heating and said they would definitely get it. 😊

It definitely convinced me personally because it combines functionality, sustainability and practicality. Furthermore, I think that one should not skimp on the equipment for sleeping because sleep is the time in which the body regenerates itself, which has a significant impact on the further course of any activity.

I hope you are satisfied with the result of my test, I was very happy to test the sleeping bag and I would be happy to test one of your products again.

Thank you and greetings from Austria
raphael